Click on images to enlarge
Loretta Niestroy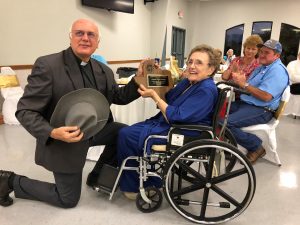 We are deeply saddened to report the passing of our very beloved volunteer, Loretta Niestroy. Our President, Msgr. Frank Kurzaj has written a beautiful expression of sorrow which you can read here: http://www.flmfoundation.org/news–events.html which is followed by a message from her friends in Poland who also wish to express their sadness at her passing.

In Memoriam
Claude Ignatius Stanush 1918-2011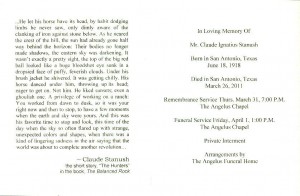 Fiesta Medal for Prominent Silesian Texan:
Joseph Cotulla 1844 – 1923
Shown below is the Fiesta 2009 Medal Honor for Joe Cotulla, presented by the State Association of Texas Pioneers. It is available at the Fiesta Store on Broadway and comes with a small write-up which says: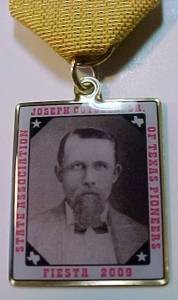 Joseph Cotulla came to Texas from Poland in 1857 with his widowed mother, settling in Atascosa County. At 13, he began work as a farm helper. Upon discharge after the Civil War, he realized people in the Northeast needed meat. He helped round up wild cattle, making five trail rides to Kansas City. Cotulla married Mary Rieder in 1871; they raised nine children. He continued acquiring cattle and land in LaSalle County. He eventually owned over 25,000 acres. In 1881, Cotulla realized the railroad was crossing his area. He laid out a town site and met with I & G N officials, offering them land for right of way. With the coming of the railroad, the town of Cotulla, Texas began to grow. His contribution to agriculture and the town's water supply was his drilling of the first artesian well in 1915. The driller first struck oil. "Keep on drilling" said Cotulla. "My cattle can't drink oil!" Joseph Cotulla was a man of his word and honesty always prevailed in his dealings with others. – Proudly sponsored by Don & Betty (Cotulla) Child and Linda Child Nairs
Our Contributors
The Priests section of this Web site features previously unpublished ordination cards and jubilee cards to mark pivotal moments in the lives of priests born in Texas of Silesian descent as well as priests born in Poland who have served Silesian Texans. Many of these beautiful cards have been tucked away for years in family photo boxes and cedar chests. We are grateful to those of you who have searched and sent these special cards for us to scan and share with the world. We are also appreciative of carefully documented and scholarly information about priests used in the outlines.
The first cards posted were from the keepsakes of Ed Ebrom's grandmother, Rosie Reiman Yosko (1904 -1981), who was born in Runge near Panna Maria and knew many of the priests personally. She obviously cherished their ordination, jubilee, and funeral cards to have saved them through the years. Her valued collection inspired the format for the Priests section.
The vital information and the artistic images from the cards simulate a virtual gallery thanks to these thoughtful and supportive contributors: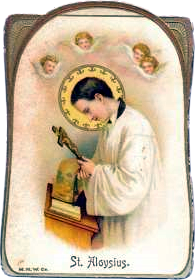 John and Kathy Korus Beard
Theresa Helbert
Lynn Highley
Louise Jurgajtis
Will and Bernice Lyssy
Loretta Niestroy
Helen Pawlik
Gladys Jendrush Waclawczyk
Mary Ann Moczygemba Watson
Bishop John Walter Yanta
In addition, Lynn Highley generously donated two hardcover out-of-print reference books to assist in research and to provide photos of priests: Archdiocese of San Antonio, 1874-1949 and Archdiocese of San Antonio 1874-1974. She also provided copies of two rare tomes entitled Polish Circuit Rider and Our Polish Pioneers. These four publications have been extremely beneficial in both the NOTABLES and HISTORY sections as we showcase Silesian Texans.
Always a knowledgeable source, Brother Edward Loch, the Catholic Chancery Archivist, provides Janet Dawson Ebrom invaluable records and guidance as she continues to research NOTABLE Silesian Texans. Especially helpful, Bishop Yanta has generously shared his own research and images from his extensive private collection.
Thank you all for your generous support and sincere interest.
Professor Karol Jonca    1930 – 2008
A dear friend of Silesian Texans passed away in Wrocław, Poland, on January 13, 2008.
Karol Jonca was a professor at Wrocław University who had graduated from the Faculty of Law in 1954.  He was awarded his L.L.D. in 1958, and his second-level doctoral degree in legal sciences in 1964.  He was appointed extraordinary professor of law in 1971 and full professor in 1981.  He was the Head of the Chair of Political and Legal Doctrines, a corresponding member of the Polish Academy of Sciences, Silesian Institute in Opole, and chief editor from 1976-1986 of "Silesian Studies Opole."
As a distinguished scholar of Silesian history, he generously shared his life-time of research with those of us in Texas searching for our ancestral ties.  His lasting legacy will be over 250 publications he authored including his research on the Schüler Agency lists documenting immigrants to Texas from Upper Silesia.
During his only trip to America, he realized his dream of visiting Texas—a place he had studied intently.  As a guest speaker at the Polish American Priest Association 10th Anniversary Convention in San Antonio from May 1-4, 2000, he presented scholarly material to appreciative audiences.  At the top of his list of Texas destinations were Cotulla and Indianola where he could finally see in person what he had experienced vicariously through archival documents.  Accompanied by his daughter Magda, he thoroughly enjoyed Texas hospitality by the descendants of those first pioneers.
We honor his memory.