Reimann
Reimanns from Radawie, Silesia
by Janet Dawson Ebrom
Stanislaus Reimann was born circa 1835 in Silesia and married Maria Woitzek when he was about 25 years old.  At that time, the couple's village of Radawie was part of the parish, Wniebowzięcia NMP [Assumption of the BVM], in Zębowice where the sacramental records  were destroyed during World War II.  Their first known child was born circa 1861 and named Maria after her mother.  Another daughter Carolina was born about 1870 and was followed by a son named Christian born circa 1872.  According to surviving civil records, on May 5, 1875, their son, Andreas Reimann, was christened, but he died after only eight days on May 13, 1875 (LDS Microfilm #2092177, p. 27, #18).  Three years later, Joseph Reimann was born in Radawie on March 15, 1878 (p. 115, #16).
Stanislaus and Maria decided to leave Radawie, Silesia, in 1881, and traveled with their children and one grandchild from their home in what is now southwestern Poland through Germany.  They boarded the ship Hohenzollern which departed from Bremen, Germany, bound for America.  The Reimann family was listed on the ship's manifest as:  Stanislaus Reimann, age 46; Maria, age 45; Maria, age 20; Christian, age 9; Joseph, age 3; and another baby recorded as Joseph, age ½ year (passengers 63- 68).  Their daughter Carolina, who would have been about age 11, was not listed with the family, and the six-month-old baby was their grandson.  The Hohenzollern arrived in New Orleans, Louisiana, on October 31, 1881.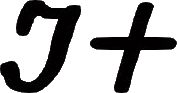 The Reimanns settled in Karnes County, Texas, and the following summer, Stanislaus visited the courthouse to register his brand (shown left) for horses and cattle on July 11, 1882 (Karnes County Marks and Brands, Record C, p. 43, entry #2626).  This brand registration with his name recorded as "Stanik Reimann" was one of the last instances of the double letter "n" used for the surname.  The 1884 Karnes County tax assessments indicated that he owned one horse valued at $25 and four cattle worth $50; he was taxed a total of $2.16 (p. 18, line 11).
The family became active members of Panna Maria's Immaculate Conception of the BVM Catholic Church.  Their daughter Carolina received the sacrament of Confirmation on January 10, 1886, when she was about fifteen years old (LDS Microfilm #0025335, 4th list, entry #7).  Then the Reiman family celebrated their first Texas wedding when their older daughter Maria married Joseph Morawiec on August 16, 1888, in Panna Maria (p. 14, 2nd entry).  Maria's husband adopted her seven-year-old son Joseph who assumed the surname Morawiec / Morawitz (Raymond and Rose Moravits, Rio Medina, Texas, personal communication, April 22, 2014).
Only three days before Christmas in 1888, Stanislaus Reiman made his Declaration of Intention on the path to citizenship in the Karnes County Courthouse.  At this time, he stated that his family had arrived in Galveston in November of 1881 (PGST Footprints, March 1999, p. 41).
On October 20, 1891, Carolina Reiman married Joseph Janysek in Panna Maria (p. 18, 2nd entry).  This union would later be blessed with a son who became a priest, Msgr. Theodor Janysek.  The following spring, Bishop John Neraz from San Antonio confirmed Joseph Reiman, age 14, who chose Peter as his Confirmation name and began using it as his middle name (7th list, entry #3).  On the same list of those being confirmed with Joseph on April 20, 1892, appear the names of Stanislaus and Maria Reiman.  It is possible that they had not been confirmed in Silesia, so they were confirmed with their son in Panna Maria.  Stanislaus chose the saint's name Francis, and Maria chose the name Sophia as her Confirmation name (entries #17 and #22).
On June 23, 1891, Stanislaus Reiman purchased 200 acres of land for his family's permanent homestead on the Ecleto Creek in Karnes County.  The deed specifies the sum of $2,400 for the cost of their property adjacent to Valentine Yanta's land (Karnes County Deed Book P, pp. 110-111).
The Immaculate Conception Church had previously been the setting for a series of joyful events for the Reiman family; however, the solemn occasion of their son-in-law's funeral took place there when Maria's husband, Joseph Morawiec, age 57, died on May 7, 1894, and was buried the next day in the parish cemetery (page 23, 7th entry).  The young widow re-married almost two years later to John Morawitz, her brother-in-law, in Panna Maria on February 4, 1896 (p. 26, 4th entry).
The Karnes County census taker visited the Reiman home to record them in the 1900 census as: Stanislaus Reiman, age 64; Mary, his wife, age 63; and Joseph P., their son, age 20.  Mary, using her Americanized name, explained that she was the mother of eight children with only three living [Mary, Carolina, and Joseph].  Stanislaus and his son Joseph were partners in farming (dwelling #563).
On January 7, 1903, Stanislaus Reiman, the patriarch of the family, passed away in Panna Maria.  His funeral Mass was offered in the Immaculate Conception Church, and he was buried in the parish cemetery (page 33, 1st entry). Five months later, the family rejoiced at the wedding of Joseph Reiman when he married Julia Esparsa in Cestohowa on June 30, 1903 (LDS Microfilm #0024960, p. 302, 2nd entry).  The bride was the daughter of Emanuel Esparsa and Francisca  Bąk / Bonk.
On March 10, 1909, the beloved mother, Mary Woitzek Reiman, died, and her funeral Mass was offered by Rev. Stan Przyborowski (page 35, 1st entry).  She was buried next to her husband in the Panna Maria Cemetery.  The names inscribed on their tombstones include middle initials representing their Confirmation names:  Stanislaus F. Raiman and Mary S. Raiman.  Their cherished bond with the Catholic Church was a legacy to their children.
This chart reflects the milestones in the lives of five of the Reiman children; two more unaccounted for had died in Silesia according to Rosie Reiman Yosko, their granddaughter.
| | | | | | |
| --- | --- | --- | --- | --- | --- |
| Child | Birth Date | Spouse | Marriage | Death Date | Burial |
| Maria/Mary | Circa 1861 | Joseph Morawiec | 16 Aug 1888 |   |   |
|        " | 2nd husband | John Morawitz | 4 Feb 1896 | 12-Mar-52 | Panna Maria |
| Carolina | Circa 1870 | Joseph Janysek | 20 Oct 1891 | 24-Sep-31 | Panna Maria |
| Christian | Circa 1872 |   |   | Before 1900 |   |
| Andreas | 5 May 1875 |   |   | 13 May 1875 | Radawie |
| Joseph | 15 Mar 1878 | Julia Esparsa | 30-Jun-03 | 13-Jan-50 | Panna Maria |
Spelling variations of surname: Reimann, Reiman, Reyman, Raimann, Raiman, Rajman