Opiela
Nicolaus and Josepha Opiela
by John and Kathy Korus Beard
Nicolaus (Mikołaj) Opiela and his wife Josepha (Józefa or Josephine) Hansa had eight children when they arranged to emigrate from their village of Pruskow in Upper Silesia, Poland, to Texas.  Nicolaus registered with travel agent Julius Schüler as a 48-year-old häusler (farm worker who owned a cottage), Josepha was three years younger, and their children were:  Caroline, 19, Johannes, 17, Marianna, 15, Hedwig, 13, Josepha, 11, Melchior, 7, Franciska, 5, and Stanislaus, 2.  The Schüler Agency List shows departure from Breman, Germany, on April 1, 1856, bound for Galveston, Texas.  Because some of the sacramental records in their parish of Wniebowzięcia NMP were destroyed during World War II, the information on this 1856 list constitutes the only known European documentation linking the Opiela family to Silesian Poland.  According to family tradition, Nicolaus had owned forestland in Poland, but when Prussian authorities decided to build a railroad across his property, he went to court but lost the battle (Virginia de la Zerda, descendant).  The family was one of seven from their village who planned to immigrate to Texas at this time, and since other Silesian families had made the journey during the previous two years, the Opielas would have the company of fellow countrymen in their new homeland.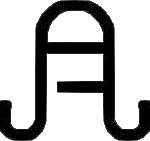 After living in Texas for a year, Nicolaus Opiela paid $0.78 county and state tax and $0.75 poll tax; records show that he owned two head of cattle valued at $15 (Karnes County Tax Assessments, 1857, p.7).  By 1862 his cattle had increased to eight and were valued at $48; he owned a horse worth $20, had $43 of miscellaneous property, and paid $2.03 county and state tax and $1.50 poll tax (Karnes County Tax Assessments, 1862, Polander Rolls, p. 1).  The cattle brand of Nicolaus (see left) is depicted as an A with two crossbars on page 77 of the 1865 Jackson and Long publication, The Texas Stock Directory.
The Opiela family celebrated the marriage of daughter Marianna and Francis Olejnik, son of Valentin and Rosalia Olejnik, on January 16, 1859, in Panna Maria at Immaculate Conception of the BVM Catholic Church (LDS Microfilm #0025335, entry #9).  When the census taker visited the Nicolaus and Josepha Opiela home in Panna Maria at the end of July the next year, Nicolaus and oldest son John were enumerated as laborers, as were their Polish immigrant neighbors.  Six of the Opiela children were living at home, Marianna had married, and young Stanislaus was not found on the census record (U.S. Federal Population Census, 1860, Karnes County, Texas, pp. 153-154, stamped pp. 14-15, dwelling #1125, N. Opiela family).  Not long after, the family welcomed a Texas-born baby boy; Valentin was baptized on February 17, 1861, in Panna Maria, and his parents' names were listed as Mikałay Opiela and Jozefa Honza (entry #159).
The Civil War brought tragedy to the family.  When son John was 21 years old, he and other Silesians joined the Confederate Army in Yorktown and were mustered into Company I of the 6th Texas Infantry at Camp McCulloch in Victoria on April 11, 1862.  His company was sent to Fort Hindman, Arkansas Post, Arkansas, where, outnumbered six to one, they were captured by the Union forces on January 11, 1863.  The almost 5000 prisoners were sent up the Mississippi River to Camp Butler, Illinois, a prison camp in Springfield.  At this time John was described as age 22, height 5'8″, with blue eyes and light hair, born in Germany, and with residence in Karnes County, Texas (Confederate company muster roll cards).  He was released on an oath of allegiance to the United States to join the Union Army on February 9, 1863, and was mustered into Company D of the 16th Illinois Cavalry on March 27.  Unfortunately, the company was captured by Confederate forces and sent to the prison at Andersonville, Georgia, where Private John Opiela died June 24, 1864.  He was listed as John Obiella, a farmer, age 22, height 5'6″, with blue eyes and light hair and complexion, single, and born in Prussia (Illinois Civil War Muster and Descriptive Rolls Database, Illinois State Archives online).  On September 1, 1890, his mother, under the name Josephine Opiela, applied for a pension as his dependent (Application #475833, Certificate #373679).
Before he left south Texas, John may have been able to attend the wedding of his older sister Caroline and Benito Lopez in San Antonio at San Fernando Cathedral on June 29, 1862 (Bexar County Marriages, Volume D2, p. 337, #2169 and Reconstructed San Fernando Marriage Book, Chancery Microfilm VS46, p. 34, #371).  According to family tradition, Mr. Lopez was a cart driver who had helped transport the Opiela family to Panna Maria when they arrived in Texas six years earlier.  Benito Lopez is described as a cartman on the 1850 census (1850, Bexar County, Texas, p. 4 or p. 202, dwelling #36, Bennite Lopez with Consion Schler), and according to a Wilson County Historical Society sketch, he led a group of Polish immigrants through San Antonio to Panna Maria and became a notable businessman of the Floresville area.
Also in Bexar County, Hedwig Opiela married Charles Niner on February 8, 1866 (Marriages Volume D2, p. 539, #2570).  In 1880 Charles and Hattie (Hedwig) were living with daughter Francis, age 12, in Walnut Creek, California, near Oakland.  The census record showed that Hattie was born in Poland and Francis was born in California (1880, Contra Costa County, California, p. 38B, stamped p. 625B, dwelling #358, Chas Niner family).  An article in The San Antonio Light on April 6, 1914, although containing obvious errors, completes Hedwig's story:  "Is Seeking Relatives–Charles Niner of Oakland, Cal., has written Police Chief Lancaster in an effort to ascertain the whereabouts of relatives of his wife, who he says, died recently.  Mr. Niner writes he was married in this city in a Catholic Church shortly after the civil war, his wife prior to the marriage residing at Santa Maria, Tex., her maiden name being Henrietta O'Bellia.  She had a sister, Miss Josepha O'Bellia, who, he says, married a Mr. Kush.  Mr. Niner writes he last heard of Mr. and Mrs. Kush while they were supposed to live in San Antonio."  The following day, the paper reported:  "Relatives Are Located–Through the publication in The Light of a letter written by Charles Niner of Oakland, Cal., to Police Chief Lancaster, seeking the whereabouts of relatives of his deceased wife, Mr. Niner will soon be in possession of the desired information.  Joseph J. Kush, 301 Goliad street, read the newspaper account and immediately called upon Chief Lancaster.  Mr. Kush is a nephew of the relatives sought by Mr. Niner" (April 6, 1914, p. 11, column 4 and April 7, 1914, p. 11, column 4).
As the newspaper article mentioned, daughter Josepha had married John Kush, a widower with three children, on May 4, 1868, at St. Michael Catholic Church in San Antonio (LDS Microfilm #0025459, pp. 8-9, entry #2 and Bexar County Marriages, Volume E, p. 140, #3134).  Mr. Kush, a first generation Silesian Texan, was a well-known stonemason in San Antonio, and a delightful photo of Josepha and John Kush may be found on page 143 of Silesian Profiles II.
Under the name of Mrs. Mikolaj Opiela, Josepha purchased 120 acres of land on the west bank of the Cibolo Creek for $170 on February 1, 1869, in Karnes County (Karnes County Deeds, Volume B, pp. 149-150).  The very next year, Nicolaus Opiela, father of nine known children, died on November 2, 1870, at the age of 64 and was buried in the Panna Maria Cemetery the next day (Immaculate Conception of the BVM, Burial Records, p. 5, entry #22).  Twelve months later, there was a happy event when daughter Franciska married John Kolenda in Panna Maria on November 14, 1871 (entry #64).  He was the son of Dominic Kolenda and Josepha Pietruska.
The next Opiela marriage was between son Melchior and Paulina Wacławczyk, the daughter of Mathias Wacławczyk and Francisca Kasperczyk, in Panna Maria on July 14, 1874 (Karnes County Marriages, Volume B, pp. 104-105).  Melchior was listed on the 1880 agricultural census for Karnes County with assets that included 10 acres of tilled land and 120 acres of woodland, 2 horses, one working ox, 1000 sheep, 5 swine, and 10 barnyard poultry.  The farm was valued at $300, implements at $10, and livestock at $50.  For the year 1879, Melchior reported that 40 head of cattle were sold, 4 acres of corn yielded 60 bushels, and 30 cords of wood were cut valued at $60.  This special census also provides an insight into what the family ate:  two head of cattle and five sheep were slaughtered in 1879, and 100 dozen eggs were produced (U.S. Federal Census, Agriculture Schedule, 1880, Karnes County, Texas, p. 5, line 8, Mikell Opiela).  Sadly, Paulina died on January 21, 1880, less than six years after her wedding (Nativity of the BVM, Cestohowa, Burial Records, LDS Microfilm #0024960, p. 342, entry #9).  Six months after the sad event, widower Melchior married Maria Krawiec (Krawietz), daughter of Joseph and Catharine Krawiec, at the Nativity of the BVM Church in Cestohowa on July 20, 1880 (p. 258, entry #7).  Melchior made his declaration of intention to become a citizen on November 7, 1892, in Karnes County (County Court, Karnes County, No. 1, p. 10 from Polish Footprints, Volume XVI, no. 1, March 1999, p. 41).  In addition to being a farmer, Melchior's death certificate reveals that he was a carpenter.
On the 1880 federal census, Josepha was enumerated as Josephine, a widow living with son Valentin, age 19, and granddaughter Kate, age 3, next door to daughter Mary Olejnik, husband Frank, and eight children.  Little Kate was the daughter of widowed son Melchior, who was living alone at the time the census was taken just prior to his second marriage (1880, Karnes County, Texas, p. 10B, stamped p. 15B, dwellings #77 and #78, Josephine Opiela and Frank Linick [Olejnik] families and p. 6B, stamped p. 13B, dwelling #45, Mikell Opiela).  Two years later, Josepha Opiela was taxed on 120 acres valued at $290, one carriage, buggy or wagon worth $50, 4 horses and mules valued at $54, and 6 head of cattle worth $60; she paid $2.52 total county and state taxes (Karnes County Tax Assessments, 1882, p. 14, line 31).
Youngest child Valentin Opiela married Veronica Kniejski, daughter of Albert and Josepha Kniejski, in Cestohowa on January 22, 1883 (p. 262, second entry).  Both families were from Cestohowa.  Two land transactions also occurred on this day:  Valentin sold 174.5 acres to John Labus for $280.15, and his mother Josepha sold thirteen of her 120 acres to Mr. Labus for $29.25 (Karnes County Deeds, Volume I, pp. 24-27).  Two months later, on March 26, Valentin bought the remaining 107 acres from his mother and sisters, Marianna and Franciska, for $150 (Karnes County Deeds, Volume I, pp. 443-444).  In January of 1902, Valentin not only lost his wife Veronica but also children, Maria and Anton, and all three were buried in Panna Maria (Immaculate Conception of the BVM, Burial Records, p. 32, second, third, and fourth entries).  The following year, Valentin married a second time to Mrs. K. S. Nawiski at St. Michael Catholic Church in San Antonio on February 10, 1903 (Bexar County Marriages, Volume R, p. 337, #20257).  The bride was known as Kate or Katie, and her maiden name appears to have been Molinowski or Malanowsky (Bexar County Marriages, Volume P, p. 496, #18047 and Texas Death Certificate for infant Kate Opiela, 1913, #341).  Valentin suffered a violent death; he died as a result of a fracture at the base of his brain by being "knocked in the head" (Texas Death Certificate, 1914, #9241).  According to an article in The San Antonio Light on May 1, 1914, Valentin was a victim of thugs; he was found semi-conscious near the city cemeteries on East Commerce Street after being beaten about the face and head and robbed of $115.  Six days later, his death was reported:  "…Opiela, who was a farmer of Martinez Station, had been in San Antonio only a few days.  His widow survives.  The body…will be sent to Hobson for burial" (May 1, 1914, p. 4, column 5 and May 7, 1914, front page, column 4).
Only two years after Josepha relived the pain of her son John's death by filling out the application for his Civil War pension, she passed away at age 76.  She was buried the same day, December 18, 1892, next to her husband who had died twenty-two years earlier (Immaculate Conception of the BVM, Panna Maria, Burial Records, p. 22, third entry).  She and Nicolaus have a double tombstone carved in Polish in the Immaculate Conception of the BVM Cemetery, and their names appear as Mikołaja and Józefy. For a photo of their tombstone, see Karnes County Cemetary, find "Opiela, Jozefy," and select "Image 175K."  Nicolaus and Josepha were gone, but by the turn of the century, their legacy included 48 grandchildren.
The birth dates of the Opiela children below are all estimates based on the ages noted on the Schuler Agency List and Valentin's baptism record.
| | | | | | |
| --- | --- | --- | --- | --- | --- |
| Child | Birth | Spouse            | Marriage Date       | Death Date              | Burial |
| Caroline | 1837 | Benito Lopez | 29 Jun 1862 | 2 Sep 1917 | Floresville, TX |
| John | 1839 | unmarried |   | 24 Jun 1864 | Andersonville, GA |
| Marianna | 1841 | Frank Olejnik | 16 Jan 1859 | 10 Jun 1915 | Cestohowa, TX |
| Hedwig | 1843 | Charles Niner | 8 Feb 1866 | before  6 Apr 1914 | possibly California |
| Josepha | 1845 | John Kush | 4 May 1868 | 4 Mar 1899 | San Antonio, TX |
| Melchior | 1849 | Paulina Wacławczyk | 14 Jul 1874 | 13 Jan 1930 | Cestohowa, TX |
|   |   | Mary Krawietz | 20 Jul 1880 |   |   |
| Franciska | 1851 | John Kolenda | 14 Nov 1871 | 5 Feb 1921 | Cestohowa, TX |
| Stanislaus | 1854 |   |   |   |   |
| Valentin | 1861 | Veronica Kniejski | 22 Jan 1883 | 6 May 1914 | Hobson, TX |
|   |   | Mrs. K. S. Nawiski | 10-Feb-03 |   |   |
Documentation for death dates and burials:  Caroline (Texas Death Certificate for Carolina O. de Lopez, 1917, #26561); John (Illinois Civil War Muster and Descriptive Rolls Database, Illinois State Archives online, for John Obiella); Marianna (Nativity of the BVM, Cestohowa, Texas, Burial Records, p. 9, third entry and tombstone of Maria Olejnik); Hedwig (The San Antonio Light, April 6, 1914, p. 11, column 4); Josepha (St. Michael Catholic Church, San Antonio, Texas, Burial Records, p. 222, fourth entry and obituary of Josephine Kush in The San Antonio Sunday Light, March 5, 1899, fourth page, column 2); Melchior (Texas Death Certificate for Melchior Opiela, 1930, #3754); Franciska (Wilson County Death Records, Volume 3, p. 27, certificate #16 for Francis Kolenda); and Valentin (Texas Death Certificate for Valentine Opiela, 1914, #9241).
Reference:  The family of Nicolaus Opiela is listed in the "Ravaged by War" section (p. 240) of Silesian Profiles II:  Polish Immigration to Texas 1850s – 1870s.
Note:  The in-law families of Nicolaus Opiela who have been profiled in Silesian Profiles (red book) are Krawietz, Olejnik, and Waczławczyk and in Silesian Profiles II (blue book) are Kolenda and Kus (Kush).