Silesian-Polish Texans Essay Contest
sponsored by the Father Leopold Moczygemba Foundation www.FLMFoundation.org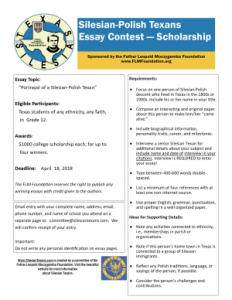 We are proud to recognize the winners of the 2017 Silesian-Polish Texans Essay Contest, McKenzie Kotara of Tom Clark High School in San Antonio, and Madison Dziuk of Falls City High School. Each winner received a $1000 college scholarship. The purpose of the essay contest is to encourage Texas high school seniors to look deeper into the Silesian Texan culture and to record the stories they uncover. Silesia is a region in Europe, which includes the southwest area of what is now Poland, from which many of the early Texas settlers immigrated. The contest requires contestants to conduct research and submit carefully written biographical essays which require oral interviews and detailed bibliographies. The judges include authors, historians and Polish professionals who evaluate the entries. The foundation has awarded $21,000 in scholarships over the last eight years and published many of the winning entries. Congratulations, McKenzie and Madison!  

Download the flyer for the 2018 Silesian-Polish Texans  Essay Contest – Scholarship
Four $1000 Scholarships  for Texas high school seniors

Any ethnicity; any faith
Deadline April 18, 2018
Download this flyer here​​.
---
2016 Winners:
• Travis R. Hamilton from East Central High School, San Antonio, Texas
• Kortney Mary Klepac from La Vernia High School
• Jason Anthony Kolodziej from Poth High School
• Ashley Marie Kosub from Cinco Ranch High School, Katy, Texas
• William Glenn Voigt from Pflugerville High School
2015 Winners:
• Aaron James Cole from The Woodlands High School
• Kayla Ann Gorzell from La Vernia High School
• Morgan Michelle Kelley from Karnes City High School
• Kolton John Pollok from Falls City High School
2014 Winners:
• Monica Nicole Delgado from Forney High School
• Taylor Kathryn Dziuk from Falls City High School
• Krystal Moczygemba from John Paul II Catholic High School in New Braunfels
• Breanna Jo Takacs from Victoria West High School
2013 Winners:
• Madison Pollok, Floresville High School
• Lauren Voigt, Pflugerville High School
2012 Winners: 
• Zachary Gonzalez, La Vernia High School, La Vernia, Texas
• Alexandria Michelle Mitchell, Our Lady of the Hills Catholic High School, Kerrville, Texas
2011 Winners:
• Katherine Stepke, Floresville High School, Floresville, Texas
• Kathryn Moczygemba, La Vernia High School, La Vernia, Texas
• Sarah Pruski, Richardson High School, Dallas, Texas
• Jordan Haley Sheppard, La Vernia High School, La Vernia, Texas
2010 Winners:
• Lauren Ashley Flieller, Poth High School
• Meagan Hester, La Vernia High School
• Kathryn Moczygemba, La Vernia High School
• Blaise Christopher Yanta, Runge High School